BELTEI Group awarded as
an Outstanding Organization from ASEAN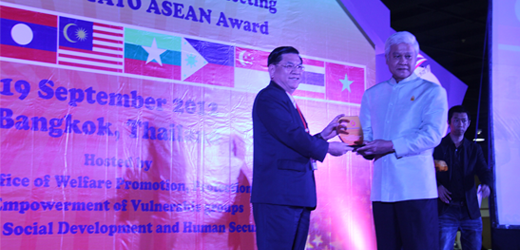 At Phnom Penh International Airport, BELTEI delegation led by H.E. LY Chheng, Director-General of BELTEI Group and Rector of BELTEI International University, returned from the participation in The 18th ASEAN Youth Day Meeting and 7th ASEAN TAYO Award held in Bangkok Thailand which lasted for 5 days starting from September 17th till September 21st, 2012. This ceremony was organized by ASEAN Youth Committee hosted by Thailand for awarding to 10 outstanding organizations and 10 outstanding youths from 10 ASEAN countries with the participation of Royal Thai government officers and thousands of youths under the presidency of H.E. Yongyut Wichaidit, Thai Deputy Prime Minister.

H.E. LY Chheng stated that the award is offered depending on two reasons:
1- Help social affairs: donate money to Red Cross, blood donation, construct pagodas, schools, bridges, roads, support soldiers along the border (Preah Vihear), and support other charities both money and attention and also help poor people.2- Help youth:
a- Education for developing human resource starting from primary school, secondary school, undergraduate and postgraduate.
b- Education for morality and living in order to make them understand about Traffic Law, AIDS, the danger of using drug, Anti-corruption Law, Environment "Clean cities, clean bays."
c- International affairs sending students for international camps, participating to international organization programs and attending to workshops out of the country.
d- Offer jobs to youths in accordance with their abilities. BELTEI has offered jobs to more than 1,500 youths including 200 in construction sites, 1,100 in Institute, and 200 in University.

H.E. also added that the award for outstanding organization that BELTEI has received at this moment is from the strong commitments of our management team, teachers, and BELTEI staffs in implementing their duties which have enhanced BELTEI to receive such a progressive development. On that occasion, H.E. has been awarded as outstanding organization and Mr. CHAN Sophal President of SSEAYP International Cambodia has been awarded as outstanding youth which were handed by Thai Deputy Prime Minister. This outstanding organization award is not only the pride of BELTEI but also it is the pride of country and Cambodians. All the progressing for all sectors in these days are from the right leadership with the highest wisdom of Samdech Akka Moha Sena Padei Techo Hun Sen, the Prime Minister of the Kingdom of Cambodia, who always encourages all organizations to have competition in order to develop the society in accordance with the movement of globalization.
H.E. also profoundly thanked to the Minister and the officers from the Ministry of Education, Youth and Sport who have given a valuable chance and appointed BELTEI to participate in outstanding organization awarding program.





















__________________________________________________________________
We are a CAMBODIA based student agency representing young people who want to study abroad. Our company provides consultancy services to local students to study, work and live in other countries. We help you to choose what you want to do, what you want to be. The great news is that our services are ABSOLUTELY FOR YOU!